Hayward Strategic Roadmap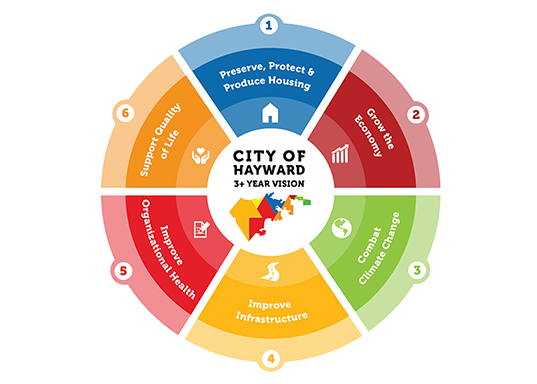 The City is working to create its first Strategic Roadmap! Here's what you need to know. 
WHAT is a Strategic Roadmap?
A Strategic Roadmap is a shared vision for where the City wants to go in the near future (3 - 5 years), along with achievable next steps for how to get there. Through this process we will define a shared vision for the City and identify the top priorities and projects that need to happen in the coming years to address current gaps in achieving that vision.
WHY do we need a Strategic Roadmap?
The City is obligated to deliver essential day-to-day services, like public safety, permits and recycling. However, our community also faces critical emerging issues like homelessness and climate change. In order to continue our daily work to deliver key services (bottom of the iceberg) and also work toward solving pressing problems (tip of the iceberg), we need to decide together what to prioritize.
The Strategic Roadmap will help us minimize time-consuming reactive tasks (or "fire drills") so we can prioritize more meaningful work that will enable us to make progress toward longer-term, big-picture goals.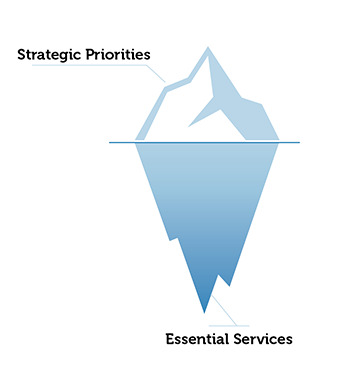 HOW will we create a Strategic Roadmap?
This is a collaborative effort between the community, City Council, and City staff. The draft vision, priorities, and projects shown here today were created with input from:
Community input: from the 2018 Community Needs Assessment and 2019 Residential Satisfaction Survey
Council input: City Council retreats (May and October 2019)
Staff input: 2018 Employee Engagement Survey; executive team workshops (September and October 2019); staff interviews and focus groups across departments and levels (September 2019) and Employee Engagement Survey
Now we are asking for your feedback on the Draft Roadmap! Before we finalize the Strategic Roadmap, we will summarize all input, identify themes, and incorporate recurring ideas in a revised draft to present to City Council in December, 2019.
WHEN will we create a Strategic Roadmap?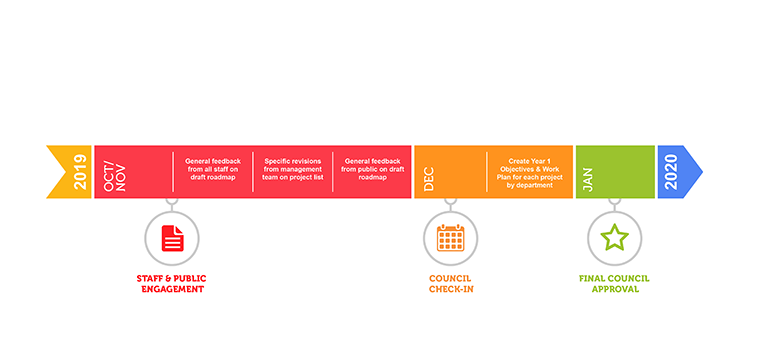 HOW can I share ideas and give input?
Review the draft vision, priorities, and projects and share your feedback using this form by November 17th 2019.