Fiscal Sustainability
The City of Hayward General Fund pays for primary municipal services.
The City's General Fund Reserve is our measure of fiscal health and resilience.  The Reserve serves as the City's "savings account."  It helps ensure we can meet obligations during regular fluctuations in revenues and the economy—and in times of emergency such as we are experiencing right now.
By City Council policy, we strive to maintain a 20 percent Reserve above budgeted expenditures.  We ended Fiscal Year 2019 with an approximately 21 percent Reserve.  We used some of these Reserve funds in Fiscal Year 2020 to help the City weather the ongoing COVID-19 crisis.
During the new Fiscal Year 2021, which began on July 1, City employees have contributed to the City's fiscal health and resilience by taking unpaid furloughs and foregoing cost of living increases.
As a result of these sound financial practices, outside credit agencies have recently affirmed the City of Hayward's high-grade AA+ credit rating.
FY 2021 Budgeted General Fund Expenditures by Department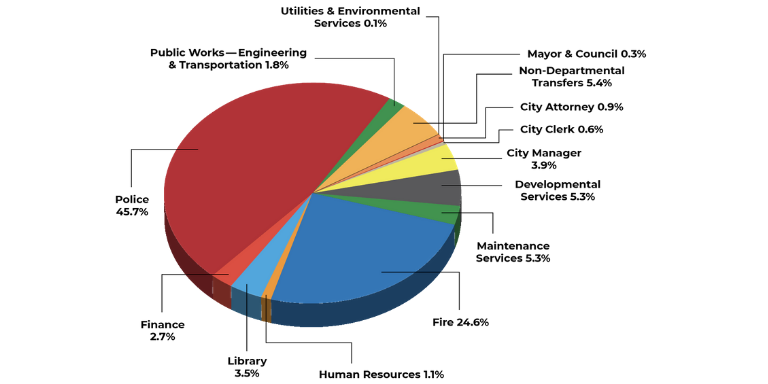 0.1% Utilities & Environmental Services
0.3% Mayor & Council
5.4% Non-Departmental Transfers
0.9% City Attorney 
0.6% City Clerk
3.9% City Manager
5.3% Development Services
5.3% Maintenance Services
24.6% Fire
1.1% Human Resources
3.5% Library
2.7% Finance
45.7% Police
1.8% Public Works - Engineering & Transportation
FY 2021 Budgeted General Fund Revenue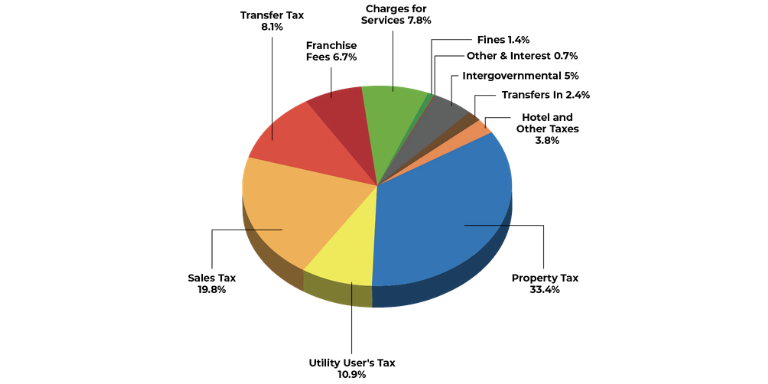 7.8% Charges for Service 
0.7% Other & Interest
1.4% Fines
5% Intergovernmental
2.4% Transfers In
3.8% Hotel and Other Taxes 
33.4% Property Tax
10.9% Utility User's Tax
19.8% Sales Tax
8.1% Transfer Tax
6.7% Franchise Fees