Climate Change and Adaptation
The City of Hayward is dedicated to doing its part to address the serious issue of climate change -- and we need your help. 
"This is not some distant problem of the future. This is a problem that is affecting Americans right now. Whether it means increased flooding, greater vulnerability to drought, more severe wildfires — all these things are having an impact on Americans as we speak."

Former U.S. President Barack Obama, interview with Al Roker, May 6, 2014
Climate change is already happening
Bordered by the San Francisco Bay on the west and fire-prone hills on the east, sea level rise and increased chance of wildfire are realities that the City of Hayward faces every day. While the flooding, burning, and poor air quality associated with these conditions have the power to severely impact the infrastructure and health of our entire community, climate-related conditions disproportionately affect vulnerable populations, such as low-income, the elderly, children, and communities of color.  Extreme summertime temperatures are another inevitable climate change repercussion that can be particularly harmful to those without access to air conditioning. The City of Hayward is working to protect against and prepare for these threats, and just as importantly, we are committed to doing our part to mitigate climate change by reducing greenhouse gas emissions.
What is the City of Hayward doing?
What can you do?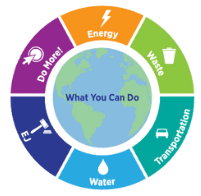 You can lessen the impacts of climate change by prioritizing the use of clean enery, using alternative transportation, properly disposing of and generating less waste, and conserving water. You can also help by getting involved in local and regional conversations about climate action. View this resource from the 
Environmental Protection Agency
 to learn more.