Hayward's original Climate Action Plan was adopted by the City Council on July 28, 2009 and then incorporated into the City's General Plan in 2014. The purpose of the Plan is to make Hayward a more environmentally and socially sustainable community by reducing greenhouse gas emissions — the primary contributor to global warming.
Hayward's Greenhouse Gas Reduction Goals:
20 percent below 2005 baseline emissions levels by 2020
30 percent below 2005 baseline emissions levels by 2025
55 percent below 2005 baseline emissions levels by 2030
work with the community to develop a plan that may result in the reduction of community-based GHG emissions to achieve carbon neutrality by 2045
The Hayward 2040 General Plan also functions as a climate action plan and community risk reduction plan. The General Plan policies and implementation programs that are intended to reduce greenhouse gas emissions are identified with a special symbol:  
   
Read more about Climate Change and Adaptation efforts in Hayward.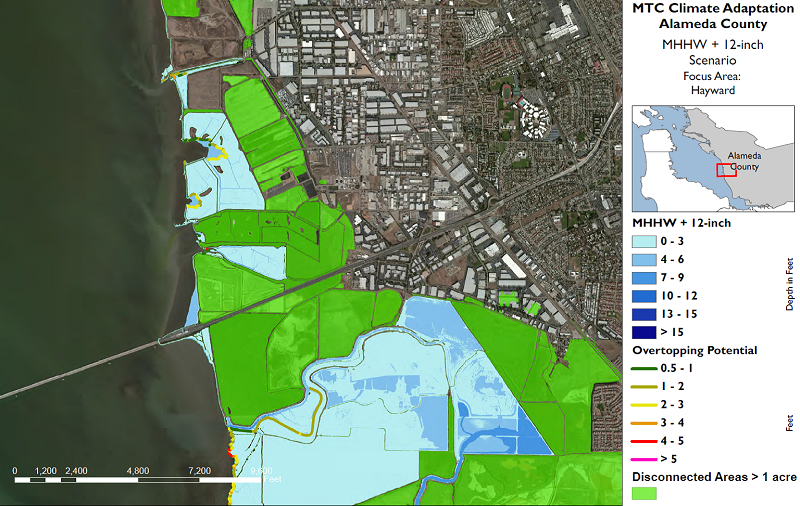 Map of salt water inundation from a 12 inch sea level rise. Image from the Hayward Shoreline Resilience Study, a project of Adapting to Rising Tides.
| CAP Implementation Program | 2014- 2016 | 2017- 2019 | 2020- 2040 | Annual | Ongoing |
| --- | --- | --- | --- | --- | --- |
| City Commuter Benefits |   |   |   |   | X |
| Water Conservation Programs |   |   |   |   | X |
| Business Engagement in Climate Programs |   |   |   | X |   |
| Comprehensive Zoning Ordinance Update | X |   |   |   |   |
| Local Hire Incentives | X |   |   |   |   |
| Energy Reduction Initiative and Annual Report | X |   |   | X |   |
| Green Portal | X |   |   |   | X |
| Residential Energy Performance Assessment and Disclosure Ordinance |   | X | X |   |   |
| Commercial Energy Performance Assessment and Disclosure Ordinance |   | X | X |   |   |
| Improved Traffic Flow Program |   | X |   |   |   |
| Pedestrian Master Plan |   | X |   |   |   |
| Shuttle Service Study |   | X |   |   |   |
| Citywide TDM Plan |   | X |   |   |   |
| TDM Amendments |   | X |   |   |   |
| Off-Street Parking Regulations Comprehensive Update |   | X |   |   |   |
| Downtown Parking Management Plan |   | X |   |   |   |
| Energy and Sustainability Businesses Program |   | X |   |   |   |
| Water Conservation Standards |   | X |   |   |   |
| Home Energy Monitors and Annual Report |   | X |   | X |   |
| Financing Program for Residential Energy Efficiency Retrofits |   | X |   |   | X |
| Financing Program for Commercial Energy Efficiency Retrofits |   | X |   |   | X |
| Financing Program for the Installation of Residential Renewable Energy Systems |   | X |   |   | X |
| Financing Program for the Installation of Commercial Renewable Energy Systems |   | X |   |   | X |
| Renewable Energy Generation Potential |   | X |   |   |   |
| Carbon Management Activities Program |   | X |   |   | X |
| Environmental Education Programs |   | X |   |   |   |
| Urban Forest Management Plan |   | X |   |   |   |
| Construction and Demolition Debris Recycling Ordinance |   | X |   |   |   |
| Rainwater Harvesting and Greywater Systems |   | X |   |   |   |
| City Employee Car/Bike Share Programs |   |   | X |   |   |
| Truck Routes Study |   |   | X |   |   |
| Energy Assurance Plan |   |   | X |   |   |
| Recycled Water Program |   |   | X |   |   |
| City Building Audits and Reports |   |   | X |   |   |
| Climate Change Vulnerability Assessment Strategy and Annual Report |   |   | X | X |   |
Greenhouse Gas Inventory Reports
January 2021 Report to Council Sustainability Committee, titled: 2019 Greenhouse Gas Emissions Inventory
September 2020 Report to Council Sustainability Committee
January 2020 Report to Council Sustainability Committee
September 2017 Report to Council Sustainability Committee
July 2016 Report to Council Sustainability Committee
October 2013 Report to Council Sustainability Committee
April 2013 General Plan Background Report on GHG Emissions
April 2012 Report to Council Sustainability Committee
April 2011 Report to Council Sustainability Committee
Climate Action Plan Update
May 2022 Report to Council Sustainability Committee, titled: Climate Action Plan and Environmental Justice: Considerations for New General Plan Policies and Programs