Beloved mural finds a new home at local school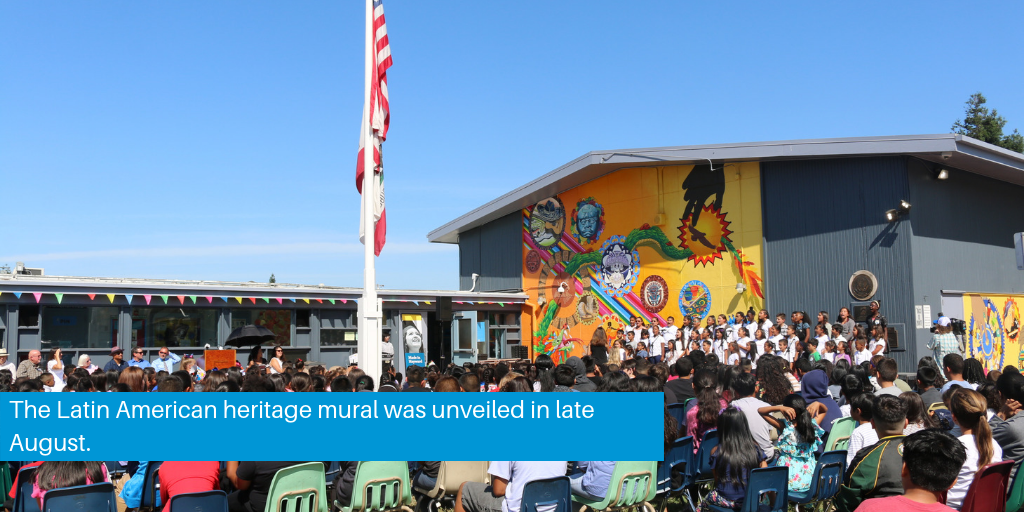 Congressman Eric Swalwell and Mayor Barbara Halliday joined Hayward Unified School District Superintendent Matt Wayne on Aug. 21 for a special mural unveiling ceremony at Eldridge Elementary School in Hayward.
The artwork is a replica and adaptation of a mural that previously adorned a building on Berry Avenue.  In conjunction with the original artist, Suzanne Gayle, Eldridge School was identified as a suitable new home for a slightly modified version of the mural that would continue to pay tribute to Latin American culture.
The project was a five-year collaboration between the City of Hayward and Hayward Unified School District and intended to reflect the diverse heritages of Eldridge School students and the greater Hayward community.
The City's Mural Art Program was established in 2009 to address the issue of escalating graffiti and vandalism, and in support of the City Council's Safe, Clean and Green community priorities.  It entails the commissioning and installation of mural artwork on commercial buildings, schools, utility boxes, roadway walls and overpasses.
The City's mural making process is open to every individual in Hayward—and artists with ideas are welcome.  To find out how to request a mural, visit the City's website at https://www.hayward-ca.gov/residents/arts-leisure/mural-program.