Mural Program
This program is a collaborative effort to eliminate chronic graffiti and blight within the city limits. It is the intent of the Mural Art Program to partner with artists, business owners, schools, volunteers, property owners, public and private organizers to foster: job creation, civic pride, cultural diversity, cultural enrichment, and sense of community identity through inspirational artwork.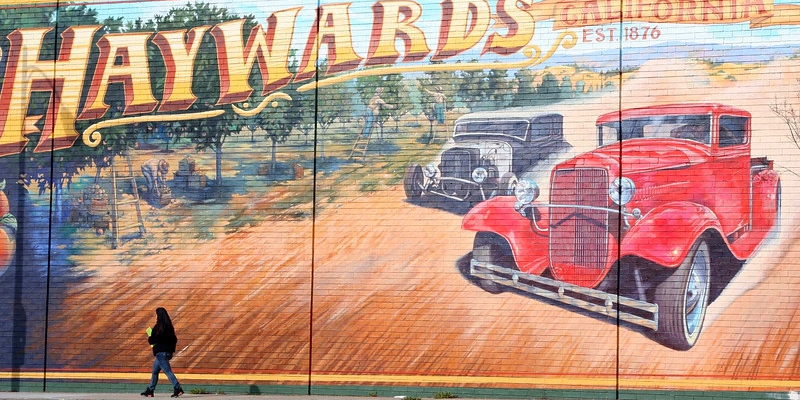 In 2009, the impetus behind the call-to-action had been to address escalating graffiti and vandalism in our town. According to the Hayward Police Department, graffiti comprised 35% of all reported vandalism cases. The community impact included declining property values and intimidation of law-abiding neighborhood residents. Graffiti-prone neighborhoods suffered increased rates of other types of crime as well gang violence.
The cultivation and implementation of the Mural Art Program took its inspiration from the City Council's, Safe, Clean and Green Priorities. As part of the Hayward City Council's top priorities of neighborhood enrichment, the program focus is a pro-active, preventive approach to help eliminate graffiti through public mural art installations. The Mural Art Program extends to graffiti-prone commercial buildings, schools, utility boxes, fire hydrants, benches, underpasses, and other sidewalk fixtures. Owners of these vandalized properties have responded enthusiastically to the opportunity to participate in this innovative program. The uniqueness of this program has strengthened and created new partnerships with outside agencies such as, PG&E and Union Pacific Rail Road that never existed before. In additional collaborations include: Hayward Unified School District, local businesses and artists, Home Owners Associations, local and non-local residents. Program administrators estimate that at least a thousand volunteers throughout the bay area have been associated with this program.
View the mural program artwork on our interactive map.