Summer in Downtown Hayward—Hayward LIVE! and 3rd Thursday Street Parties
The Stack e-Newsletter: August 2023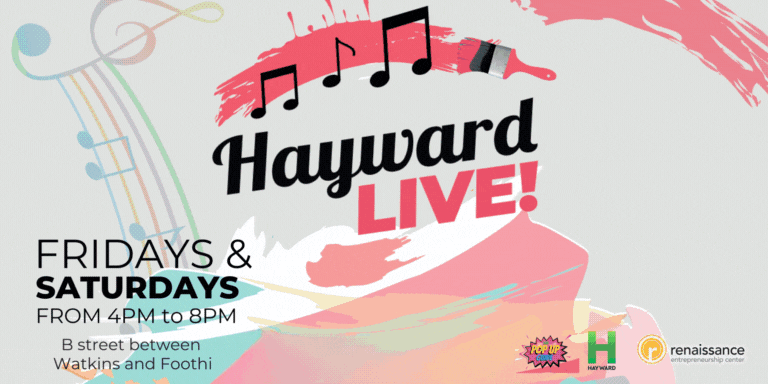 Summertime gatherings in Downtown Hayward continue through August with Hayward LIVE! art and entertainment showcases Friday and Saturday afternoons and evenings, and with this year's final third Thursday of the month downtown street party. 
During Hayward LIVE! on Aug. 18 and 19 from 4 p.m. to 8 p.m., customers can get a free pint glass with a qualifying purchase at participating businesses in downtown while supplies last. Hayward LIVE! is a new City of Hayward Economic Development Division initiative to draw more visitors to shop, dine and socialize downtown.  It opened June 30 and July 1 with pop-up musical performances, interactive artist displays and vendors along B Street between Mission and Foothill boulevards.
On Thursday, Aug. 17, the next Hayward Chamber of Commerce-led Thursday Night Street Party, called Hot August Nights, will take place from 5:30 to 8:30 p.m. at the intersection of B and Main streets. Entertainment will include live music, a beer and wine garden, car show and a family fun zone.  
For more information on Hayward LIVE!, including how to enter the pint glass giveaway, upcoming showcase lineups and ways to participate, visit www.haywardlive.org. 
For more information on downtown Thursday night street parties, go online here on the Chamber of Commerce website.