Hello! Welcome to the City's Clean Water Program. The CWP Team administers and implements requirements of two very important and mandatory Environmental Programs for the City: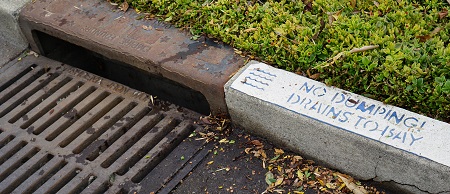 The two programs are cornerstones of the Federal Clean Water Act (CWA) of 1972. Since the provisions of both programs are born from requirements found in discharge permits issued to the City by the State, the City is positioned as both regulator and regulated. As such, the CWP team works to both enforce provisions of both programs as well as inform and educate stakeholders within the City about these requirements.
Examples of this work include:
Permitting, inspection and sampling wastewater from some of the City's largest industrial users (i.e. Dow Chemical, Russell City Energy Center, Pepsi Bottling Co., Berkeley Farms, Shasta Beverage Co) as well as smaller industrial users who don't discharge large volumes of wastewater but are required to be permitted per EPA regulations for various sources of pollutants.
Inspection of industrial and commercial businesses for compliance with stormwater best management practices to prevent discharge of pollutants to the City's stormwater drainage system.
Inspection of low-Impact development Infrastructure (aka "green infrastructure") to ensure compliance with stormwater permit provisions regarding the City's new development and redevelopment projects
Perform Pollution Prevention outreach to various stakeholders throughout the City and Region at various city sponsored community events.
Contact Us
Call us at 510.881.7900
Visit us at 24499 Soto Rd.