Make a Difference Day in Hayward—Oct. 28
The Stack e-Newsletter: September 2023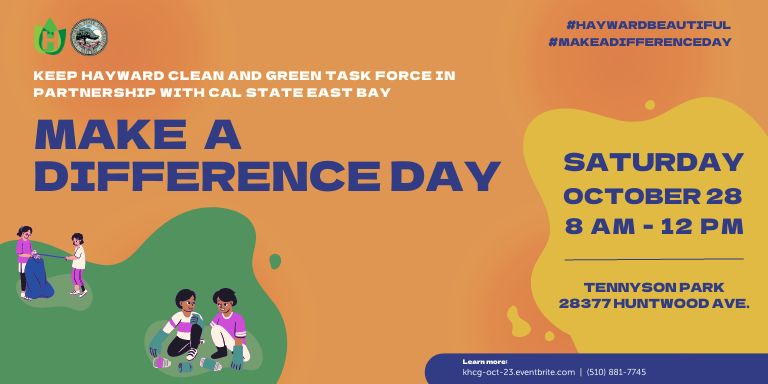 Join the Keep Hayward Clean and Green Task Force next month as it kicks off its annual program of community clean-up and beautification events at Tennyson Park on Saturday, Oct. 28.
Make a Difference Day annually marks the start of the new fiscal year of Task Force-led events that seek to build community and offer volunteer and community-service opportunities in the course of tidying up and updating landscaping in neighborhoods citywide.
This year, Make a Difference Day, which is being produced in partnership with California State University, East Bay, is coming to Tennyson Park at 28377 Huntwood Ave. in South Hayward and will take place from 8 a.m. to Noon on Saturday, Oct. 28.
To learn more and register, go online here or call the City of Hayward Maintenance Services Department at (510) 881-7745. Pre-registration is open until 3 p.m. Thursday, Oct. 26, with same-day registration available at the event starting at 8 a.m.
Please keep in mind that adult supervision is not provided by the City of Hayward at this event and all volunteers under the age of 18-years-old must be accompanied by a participating adult.