Juneteenth commemorations in the City of Hayward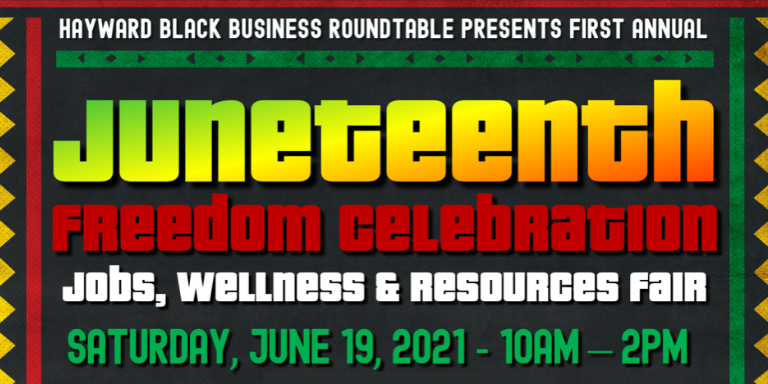 Juneteenth, the oldest nationally celebrated commemoration of the ending of slavery in the United States, will be marked in Hayward with special programming by Hayward Public Library, a one-day closure of city government services and a special jobs, wellness and resource fair.
The closure of non-essential city services will take place Friday, June 18, followed by the first Hayward Juneteenth Jobs, Wellness and Resource Fair—organized by the Black Business Roundtable of the Hayward Chamber of Commerce with the support of the Hayward South Alameda County Chapter of the NAACP—from 10 a.m. to 2 p.m. Saturday, June 19, at City Hall Plaza, next to the Hayward Farmers Market.
In partnership the Fair organizers and other sponsors and presenters, Kaiser Permanente, La Familia and Eden Health District are teaming up to make up to 300 COVID-19 vaccinations available at the event.  Vaccine recipients will receive a $50 gift certificate redeemable for purchases at the Farmers Market.
In addition to participating in the Fair, Hayward Public Library is holding a special online Juneteenth readathon that will take place Saturday, June 19, and celebrate African Americans and their contributions to our history, culture and literature.  For information, follow Hayward Public Library on Facebook and Instagram.  Readings by and about African Americans will be posted on Facebook and Instagram throughout the day and will feature many familiar and new local faces and voices, including Hayward Fire Captain and poet La Shon Earnest, Library Commissioners Briggitte Lowe and Anika Patterson, various stakeholders, library staff members, and local authors.
Celebrated annually on June 19, Juneteenth, also known as Emancipation Day and Freedom Day, marks the effective end of slavery in the United States.  On June 19, 1865, almost two and a half years after President Abraham Lincoln issued the Emancipation Proclamation, Union Army Major General Gordon Granger arrived in Galveston, Texas, to announce the end of both the Civil War and slavery.