Hayward Public Library Launches Live Help for Job Seekers, Adult Learners, Veterans, and Their Families
Includes assistance for job seekers, adult learners, veterans and their families with potential eligible benefits, resume reviews, job coaching, practice tests, and foundational skills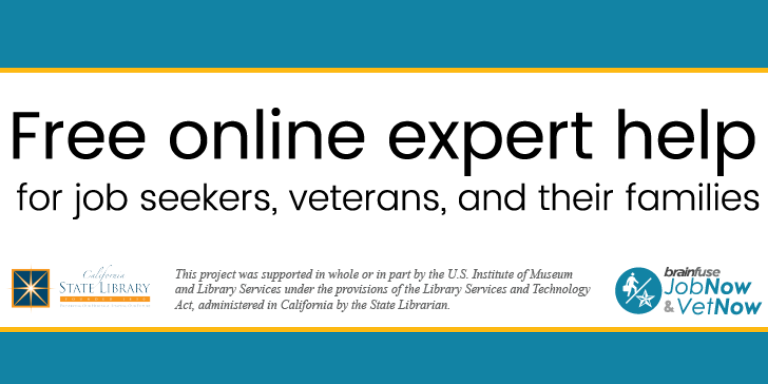 The Hayward Public Library is pleased to announce the launch of Brainfuse JobNow/VetNow™. This versatile online service supports job seekers, veterans, and their families with all stages of job searching, employment transition assistance, navigating the VA bureaucracy, preparing for standardized tests, and building marketable academic skills. To access JobNow/VetNow™, please visit our website, www.hayward-ca.gov/public-library/resources/brainfuse.   
JobNow/VetNow™ includes the following features:   
LIVE ONLINE NAVIGATORS: VetNow Navigators are trained to help veterans and families connect with valuable benefits and resources:
Answer questions related to benefits eligibility
Refer patrons to applicable community resources for housing, healthcare, and education benefits
Assist patrons with locating accredited claims agents
JOB TOOLS: Designed to help with all stages of the job-hunting process, VetNow's Job Tools feature career coaching, expert resume assistance, live interview preparation, and more:
Use the career resources to discover one's best career fit based on education, experience, and personality
Search for a job with nationwide and local resources
Download templates for the most common resume types
Receive resume and cover letter assistance from trained experts
Brush up on job interview techniques or get live online interview practice from trained job coaches
LEARNING TOOLS: Users build academic skills and prepare for college with VetNow's array of tools, including:
LearnNow - Live skills tutoring and an extensive library of lessons, video tutorials, and practice tests including SAT, ACT, TEAS, HESI, GRE, GMAT. and more
LEAP - build academic skills through targeted lessons, quizzes
Flashbulb - create and share flashcards, tests, and educational games
MEET - schedule online sessions using the Brainfuse MEET whiteboard
Brainwave - a versatile whiteboard where students can draw their ideas for later review or email them to others.
ADULT LEARNING CENTER: The Adult Learning Center provides foundational, career-enhancing skills to job seekers. Also, the Adult Learning Center offers test preparation (including the GED and the USCIS citizenship test) and a unique academic skills center featuring live, online tutors.
About Brainfuse™:
Brainfuse is one of the nation's leading online tutoring providers, serving a diversified client base of libraries, school districts, and colleges/universities for over 20 years. With Brainfuse, users receive real-time tutoring from instructors via our proprietary online classroom. They serve hundreds of library systems throughout the country, including the California State Library, New Mexico State Library, the Suffolk Cooperative Library System, the San Francisco Public Library, the Sacramento Public Library, New York Public Library, and North America's largest homework help program through the Chicago Public Library. For more information about Brainfuse services, please contact them at info@brainfuse.com.