Phase 2 Mission Boulevard improvements under way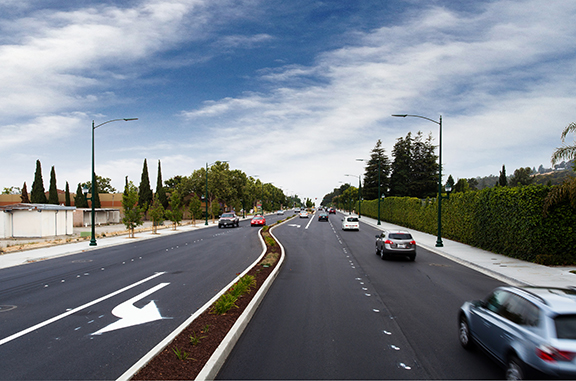 Construction work began last month on Phase 2 of Mission Boulevard improvements intended to transform the north-south corridor into a true multi-modal thoroughfare.
Approved by the City Council in November 2007, Phase 1 of the project—on Mission from A Street to Industrial Boulevard and along Foothill Boulevard from Mission to Apple Avenue—brought sidewalk, curb, gutter, median and driveway improvements, new street trees, lighting and signage, roadway pavement rehabilitation, traffic signal upgrades, and undergrounding of overhead utility lines. Phase 1 was completed in January 2014.
Begun in late March, Phase 2 Mission Boulevard improvements—from Industrial Parkway to the southern City limit near Blanche Street—also will entail new protected bike lanes, including buffered divider planting strips, new landscaping, a new traffic signal at Rousseau Street and, at Blanche Street, a new full traffic signal and new entry to Hayward gateway features.
Phase 2 work is scheduled to be completed in the fall of 2019. It is being paid for with state transportation revenue and regional voter-approved matching funds.
A dedicated webpage with information on the Mission Boulevard corridor improvement project is available on the City of Hayward website.