Hayward Water and Sewer Service
Announcement: A Level 2 Water Shortage has been declared in Hayward. Learn about Level 2 water saving requirements and find other drought resources here.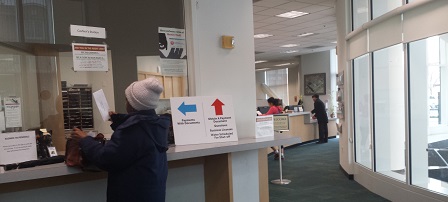 Starting & Stopping Water Service:
The Revenue Division is responsible for administering the water and sewer billing for the Hayward Water System. The person responsible for the account can start or stop service,
By email: HSS@hayward-ca.gov (please include service address in subject line)
By phone:  Call Customer Service at (510) 583-4600, Monday – Thursday, 8:00 a.m. to 6 p.m., and Friday, 8:00 a.m. to 12 p.m., excluding holidays. Voicemails are returned within 1 business day.
In person: Visit our office at 777 B St., Hayward, CA 94541. Our current office hours are 9am - 1pm, Monday-Thursday, closed on Fridays.
IMPORTANT INFORMATION:
Start Water Account: Please contact our office at least 1 business day ahead of your start of service date. If service has been shut-off, your request to turn services will be between 7:30am – 3:30pm on the scheduled date.
Stop Water Account: Please contact us at least 2 business days ahead of your requested cancellation date. If water service will be shut off, service will be shut off as early as 7:30am on the scheduled date.
The following information will be requested:
Date to start account/service
Service address/location
Applicant's Customer Number (CID) – if you had service in Hayward previously, and do not know your CID, please list up to 3 Hayward addresses you've resided at:
Applicant's name (primary accountholder): First, Middle, Last or Business Name (Entity & DBA)
Applicant's (primary accountholder) personal information: Last 4-digits of social security number, date of birth and phone number
If this will be a business account--  Please enter Tax ID number (FEIN):
Business phone number:
Are you the owner or renter? If you answered "Owner": Will this be a rental?
Secondary accountholder's name (this person must contact our office by phone or email to verify the request to be added to this water account): First, Middle, Last
Secondary accountholder's personal information: Last 4-digits of social security number, date of birth and phone number
Mailing address
Email (one only)
Bill delivery preference (select one): Paperless or mail
Fees & Deposits:
There will be a $70 Account Establishment Fee and deposit (if applicable) charged on your first bill. The fee is charged each time service is requested.
Deposit amounts:
Residential services deposit: $70
Non-Residential services deposit: minimum $100
*If water service is off, same-day turn on requests will be charged an Account Establishment Fee of $142 and any applicable deposit. Services will be turned on after 4 p.m.
Closing Account / Person Responsible for Payment:
The party that initially signed up for service is responsible for the payment of charges until we are contacted to discontinue service or a new party requests to establish a new account. We are unable to backdate account closure dates, and per Hayward Municipal Code, it is the sole responsibility of the account holder to cancel service and close the account. Contact our office at least 48 hours prior to the date you wish to stop service at (510) 583-4600, or email your name, account number, forwarding address, phone number, and the requested service stop date to HSS@hayward-ca.gov. Note – you will receive a final bill.
Policies and Guidelines for Discontinuation of Residential Water Service for Non-Payment of Charges