2018 Environmental Sustainability Awardees Recognized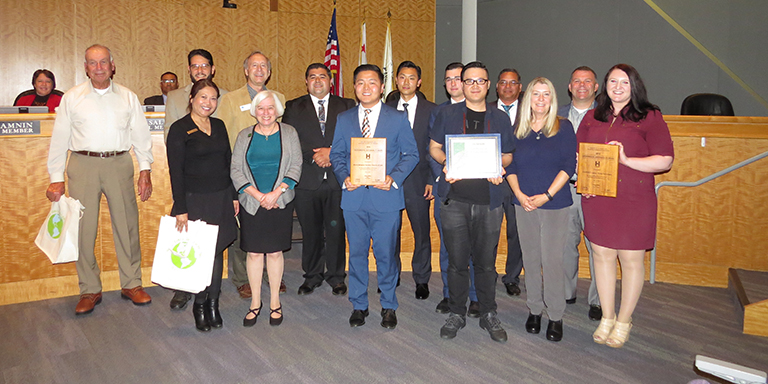 The City of Hayward is pleased to announce the recipients of the City's 2018 Annual Environmental Sustainability Awards.  Each of the awardees was recognized at a special City Council presentation held on May 15, 2018 at City Hall.  The awards honored residents and multi-family property managers for excellent participation in the City-sponsored recycling program. Businesses were also honored for their implementing energy efficiency and water conservation measures, waste reduction, reuse, and recycling programs, as well as environmental education activities.
Residents, Jose Estrada and Jose Pimentel, and multi-family property manager, Janie Yang of City Centre Apartments, were recognized for exceptional recycling practices during the ceremony.
The awards to businesses were co-sponsored by the Hayward Chamber of Commerce. The Cannery Cafe, a 2015 Environmental Award recipient, received a special recognition for their ongoing sustainability efforts.  The organizations that received the 2018 Environmental Sustainability Awards for outstanding environmental leadership in the Hayward community were GARNET + grace Bridal Boutique, World Mission Society Church of God, and SEW Eurodrive.
The City of Hayward wants to thank all those who participated in the award process, and hopes that residents, schools, and businesses continue to do their part to create a healthy and sustainable community!
The City of Hayward was one of the first cities in the Bay Area to adopt a Climate Action Plan.  One of the primary goals of the Climate Action Plan is to enhance the health and sustainability of all who live and work in Hayward.  The Plan identifies actions to reduce greenhouse gas emissions including, for example, increasing participation by residents and businesses in the City's recycling and organics services, encouraging waste reduction, and banning certain materials from the landfill. Information about recycling and organics services available to residents and businesses is on the City's website.  Staff from the City's Utilities and Environmental Services Department is available for assistance at (510) 583-4700.