Solid waste, recyclables and organics pick-up services update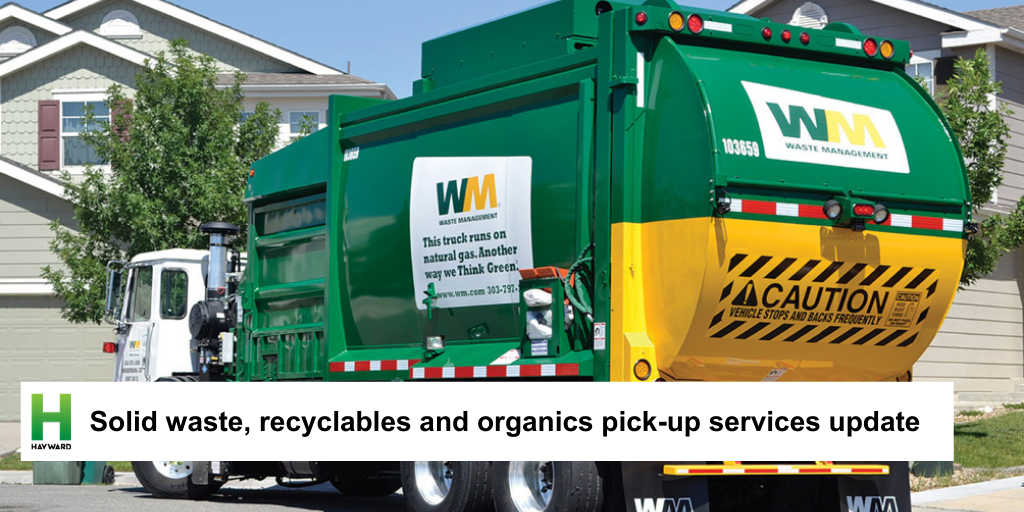 City of Hayward waste hauler Waste Management of Alameda County (WMAC) has announced effective March 30 a suspension of bulky and excess waste service so the company can focus on regular curbside trash, recyclables and organics pick-ups during the COVID-19 public health emergency.
The company says customers with bulky and excess waste pick-ups already scheduled beyond March 30 will be able to reschedule after July 1—and that it is providing customers notice of the temporary change in service via their preferred method of contact (email, text or phone call) and on through its online wm.com/alerts system.
Regular curbside collection of solid waste, recyclables and organics WMAC and its subcontractor Tri-CED Community Recycling is continuing and remains largely uninterrupted.
WMAC has closed its customer service office on Main Street in Hayward and its walk-up window at 98th Avenue in Oakland out of concern for the proximity of customers and WMAC workers.  Customers can still drop their payments into a slot at the Main Street office.  Payments can also be made by the following methods:
Mail payment to the address provided on customer invoices
Online at www.wm.com, using the Waste Management (WM) Customer ID on customer invoice to create or login into your account at anytime
Call Waste Management's automated system at 1-(866) 9642729.
WMAC's call centers experienced disruptions, but are now fully operational with its employees working remotely.  Customers in need of assistance can call 510-537-5500 or submit questions by email to csnorthbay@wm.com.
WMAC's recycling subcontractor Tri-CED has announced that as a precautionary measure, it will not collect used motor oil jugs, extra cardboard (flattened between carts), or household batteries from the curb as long as shelter-in-place orders are in effect.  Residents are encouraged to put cardboard into the recycling cart.  Used oil and household batteries should be saved for proper disposal after the shelter-in-place orders are lifted and collections return to normal.