Save the Date – Bike to Work Day is May 9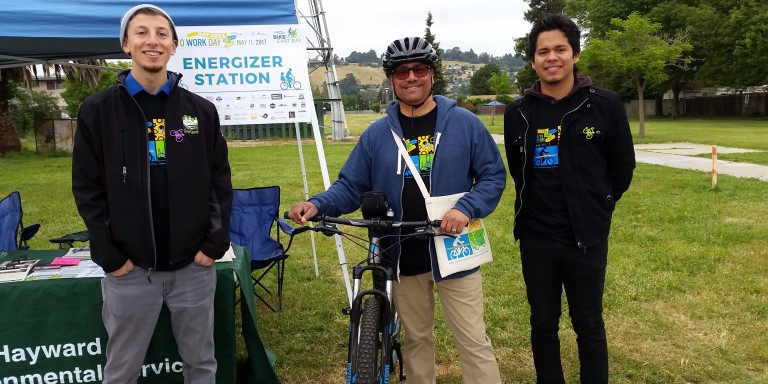 Councilmember Mark Salinas, center, stopping by an Energizer Station in Hayward during the 2017 Bike to Work Day.
Pump up your tires -- it's almost Bike to Work Day again! The official 2019 Bay Area Bike to Work Day will this-year take place on Thursday, May 9, with nonprofit Bike East Bay celebrating the region-wide event by hosting gatherings and activities for East Bay communities. Starting at 7am, cyclists can ride by 140 different Energizer Stations across the East Bay for refreshments, a free bag, and high fives from local businesses and community groups. Happy hours will also be hosted throughout the East Bay in the evening.
In a show of support and celebration for the environmental, health, and community benefits associated with pedaling your way through town, the D.C.-based League of American Bicyclists declared May as National Bike Month more than sixty years ago. Communities across the country have hosted annual community Bike to Work Days during the month of May ever since.
This National Bike Month, the City of Hayward encourages residents to reflect on the advantages of opting for alternative forms of transportation whenever possible. Car-related emissions have decreased significantly over the past decade as vehicle technology has advanced, but EPA data shows that the transportation sector continues to be the largest U.S. producer of greenhouse gases (followed closely by electricity). Light duty vehicles like passenger cars are the driving culprit behind these staggering emission levels, accounting for 60% of nation-wide transportation emissions.
Vehicle use is sometimes unavoidable -- but electing to use alternative transportation when it makes sense can go a long way toward curbing the millions of metric tons of CO2 produced by automobiles every year. Public buses, BART, and even ride- and car-sharing services can help reduce your personal carbon footprint, but the best way to whittle your transportation-related impact to near zero levels is by walking and biking whenever possible.
Pledge to ride this Bike to Work Day at www.bikeeastbay.org/civicrm/event/info?id=1398&reset=1 to be entered into prize drawings. Pledgers will also receive a map of all the Energizer Stations where they can get their free Bike to Work Day bag. Help with planning bike routes to work can be found at www.bikemap.net. The City also encourages residents to share their ideas about how Hayward's bicycle network can be improved by submitting input on its Bicycle and Pedestrian Master Plan. Learn more about the Master Plan and submit your suggestions at www.hayward-ca.gov/content/bike-and-pedestrian-master-plan-update.