Linear Park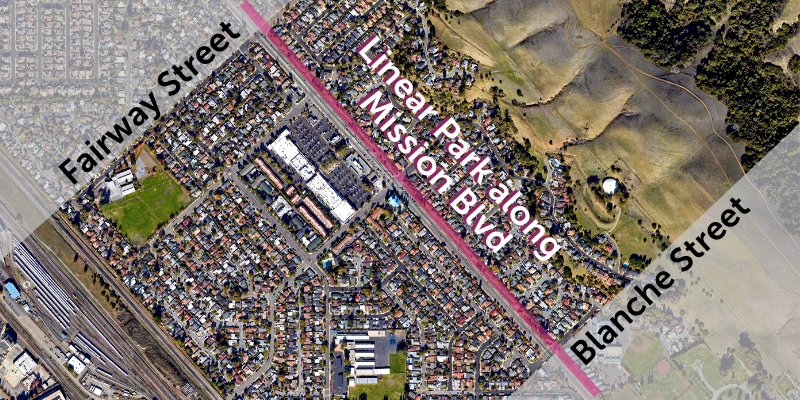 Project Overview
The City will soon be transforming the approximately one-mile stretch of Linear Park along the eastern side of Mission Blvd, roughly from Blanche Street to Fairway Street.
Share your input
At the second Community Vision Meeting, held on December 10, 2020, attendees had the chance to view the conceptual design developed based on the input previously received during the first Meeting in September. Attendees provided feedback during the meeting and also through a survey up until January 31, 2021.
After the next Community Vision Meeting, another survey will be made available for additional input and feedback.
Upcoming Events
The third and final Community Vision Meeting will take place in Summer 2021. Details coming soon!
Project Design Timeline
Phase 1: Data Collection & Field Surveys [August - September 2020]
In Phase 1, predesign work will begin and the City will host its first Linear Park Community Vision Meeting. The input gathered by the community during this meeting will be used to generate the conceptual design.
Phase 2: Conceptual Design & Public Meetings [October - December 2020]
Conceptual design work will begin based on input from the community and the Council Infrastructure Committee (CIC). At the end of this phase, the City will host a second community meeting to review the designs developed and to seek additional feedback.
Phase 3: Design Development [December 2020 - March 2021]
Feedback garnered during the second community meeting will be incorporated in the design development and, based on direction from the CIC, a design will be selected.
Phase 4: Plans, Specifications, & Estimates [April - September 2021]
In Phase 4, a final round of input will be sought from the community and the CIC on the design. By the end of this phase, the final design, specifications, and cost estimates will be assembled. The construction phase of the project will follow, and a new timeline will be posted at that time.
Project Documents:
October 23, 2019 Council Infrastructure Committee Meeting
September 25, 2020 Linear Park Community Vision Meeting
December 10, 2020 Linear Park Community Vision Meeting