Submitted by

Anonymous

on Fri, 05/15/2015 - 00:00
Spring water efficient landscape classes a hit during the drought
Hayward hosted the third of three free water efficient landscape classes at City Hall on Saturday, May 2.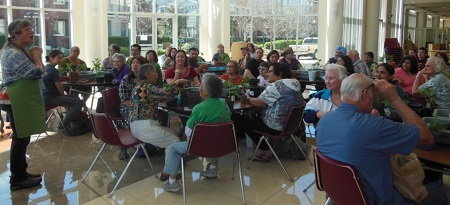 Co-sponsored with the Bay Area Water Supply and Conservation Agency, these bi-annual classes provide residents with practical information and ideas for designing, installing and maintaining landscapes that are colorful, attractive, and water efficient.
With over fifty participants in attendance, the final class, Lawn Replacement, was taught by Alane Weber, a professional landscaper with over forty years of experience and the Educational Director of San Mateo's Master Composter Program. Ms. Weber provided ideas on how to create a water-efficient and low maintenance landscape using native and drought tolerant plants. Class attendees were educated about the benefits of native plants as an alternative to lawns, as well as tips on the Bay Area's water cycle to better manage water efficiency. In addition, Ms. Weber drew the names of about a dozen participants, each of whom received a water-efficient native plant to take home.
The first two classes, Water Wise Edible Gardening and Habitat Gardening, were both hands-on workshops, where in additional to a traditional lecture, class attendees also received water-efficient plants, vegetable seeds and bulbs to plant in their own pots to take home.
The next landscape classes will be held in the fall. The dates and topics will be announced as soon as the information is available. Customers will be notified with an insert in their water bills, as well as through other means such as the City's website and flyers.