Submitted by

Anonymous

on Sat, 09/19/2015 - 00:00
Organic compost giveaway a resounding success
The Utilities and Environmental Services Department, in partnership with Maintenance Services, offered a compost giveaway event on Saturday, September 19 at Barnes Court in front of the Hayward Animal Shelter.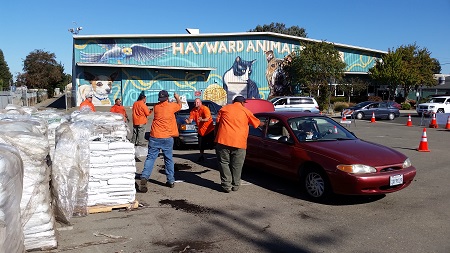 Literature promoting the event indicated a 10:00 a.m. start time, though residents started coming to the event at 9:20 a.m. Cars were queued the full length of Barnes Court well before 10:00 a.m. The message was that this organic compost is the product of what all residents and participating business place in the green organics carts and bins. A total of 2,460 one-cubic-feet bags were given away to residents. Each household received four bags. The staff from the Landscape and Streets Divisions worked very hard in the hot sun loading bags into vehicles and keeping the flow of cars moving. A big thank you goes out to them.
The event was promoted via a bill insert in garbage bills; copies of the flyer were also placed in the Revenue Division office and at both libraries; and the event was also posted on Nextdoor.com. A total of 379 residents completed a brief survey while they waited in line. The response from residents was overwhelmingly positive. They were happy to receive the compost and many asked how soon the next giveaway event would be scheduled.
Staff plans to offer similar events at least twice per year going forward. The compost was provided by Waste Management of Alameda County per the renewed franchise agreement that became effective in March this year. The City will receive 5,000 bags each calendar year.