New HUSD superintendent at helm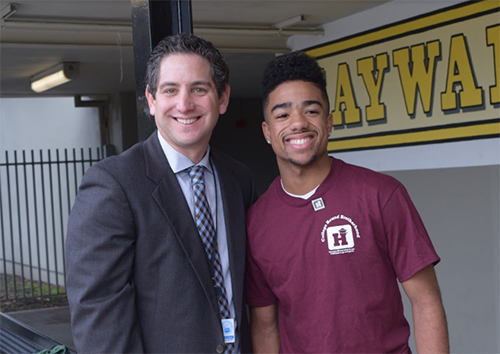 The 20,000-student Hayward Unified School District (HUSD) has opened its first school year under recently elevated Superintendent Matt Wayne.
Wayne, 44, was unanimously appointed superintendent by the Hayward school board last June after serving in the role on an interim basis since 2016.
"Personally, I am excited and humbled to start the year as HUSD's superintendent," he wrote in a welcome letter to HUSD families ahead of the first day of classes Aug. 28.  He cited several recent district accomplishments—among them a rising graduation rate; expanded visual and performing arts programs; student scholarship earnings that topped $1 million in the 2016-17
school year; and the development of biomedical, entrepreneurship and engineering career pathways for high school students.
Wayne earned bachelor and post-graduate degrees in rhetoric, educational administration and educational leadership from University of California Berkeley and Columbia University in New York.  Prior to joining HUSD, he was a principal in West Contra Costa Unified School District and executive director for instructional support at San Francisco Unified School District.  He began his tenure at HUSD in July 2012, serving as assistant superintendent for educational services before becoming interim superintendent in July 2016.
For 2017-18, Wayne is putting an emphasis on community engagement and is scheduling a Coffee with the Superintendent series, with the first event to be held at 4:30 p.m. Tuesday, Sept. 19, at Schafer Park Elementary School.