HPL to Go: Contactless Pickup Service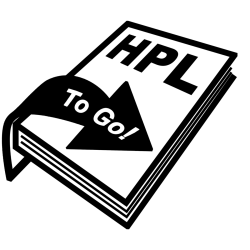 Place items on hold online at 
https://bit.ly/hpltogo
. You can also call us at 510-881-7980 from 11:00 a.m. - 1:00 p.m. or 3:00 p.m. - 5:00 p.m. Monday - Saturday.
You will be notified by phone once your items are ready for pickup. Please wait to hear from us before coming to pick up your items! 
Items may be picked up on Monday, Wednesday, or Saturday from 1:00 - 4:00 p.m. at the Downtown Library (888 C Street). Walk up to our service desk near the Mission Avenue library entrance, give us your name and the last 4 digits of your phone number, grab your bag and go!
Please note: You must follow social distancing guidelines and be wearing a mask/facial covering to receive service. 
For additional information please call (510) 881-7980 between 11:00 a.m. - 1:00 p.m. or 3:00 p.m. - 5:00 p.m., Monday through Saturday or email 
library@hayward-ca.gov
. 
Hayward Downtown Library
888 C Street
Hayward, CA 94541