Saturday / 11:00 AM
Farewell to the Old Main Library
Hayward Main Library
Add to Calendar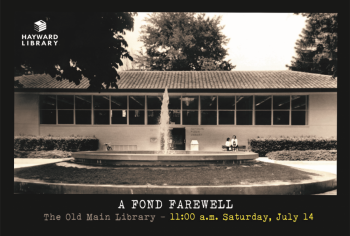 Join us in saying goodbye to the old Main Library!
On Saturday, July 14, we're hosting a special event to bid a fond farewell to the old Main Library building. You won't want to miss this one! People who attend can:
Share memories of the old library
Take a library book on vacation
Donate food for fines
Hear the GRAND OPENING announcement
Shop at the Friends of Hayward Library POP-UP SHOP
Enjoy a treat from the Hippie's Brew coffee tent
Make your mark--literally!--on the old Main Library
Activities for kids, teens, and adults
But what does it mean to "take a library book on vacation", you ask? It's simple. You can borrow any book you check out before the old Main Library closes its doors for three whole months. That's right--you will have 12 weeks to enjoy your reading materials.
The fine print: there will be no renewals of any items checked out for the extended period. 12 weeks is enough! Also, no grandfathering--if you checked out a book before we started doing this, you still have to return it by the original due date. The extended checkout period doesn't apply to Link+ books that we've helped you borrow from other libraries. But it *does* apply to DVDs, CDs, audiobooks... all of our wonderful Hayward Public Library items!
No registration required--just come to the old Main Library on Saturday, July 14, at 11:00 a.m. to have some fun. Got any questions? Email us, call 510-881-7980, or just ask whenever you drop by the library. 
See you there!
Hayward Main Library
835 C St
Hayward, CA 94541