Hayward Youth Hall of Fame Recipient for the Arts
Home Categories Rules Nominate Hall of Fame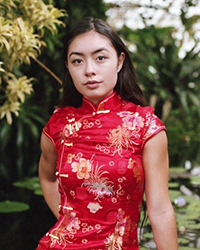 Eileen Syrop has worked tirelessly over the past four years to build community and herself. It's hard to know where to begin. She was elected Class President both freshman and sophomore year, bringing together students and making them proud to hail from Hayward. As a junior and senior, Eileen founded the organization Bay Creatives: a monthly meet-up hosted at different venues throughout the Bay Area where young artists would come out in droves.
The Bay Creatives anniversary event took place in Oakland, featured eight hours of live music, and had a peak attendance of 400 people. As a musician, Eileen has self-released two EP's and multiple singles, garnering over 100K plays on Spotify, Apple Music, and Soundcloud. She's hosted and performed at shows as far north as Vallejo and as far south as Los Angeles.
As an artist, Eileen has studied in San Francisco for two summers and self-released Nasi Magazine, a publication that showcases/celebrates women, people of color, and queer artists. From running track to earning a black belt in karate and medaling nationally, Eileen has also been an active athlete. Somehow, my sister has managed to accomplish all of above while balancing a part-time job and a full course loads of AP classes. Eileen is headed to UC Berkeley in the fall, where she'll be studying cognitive science and sociology.
She has no idea I'm submitting her story. I'm just an incredibly proud brother who believes her endeavors strengthen what it means to come from Hayward. In addition to her accomplishments, Eileen is an incredibly empathetic and kind human being, and I genuinely believe Hayward, the Bay Area, and the world would be at a loss without her.