Hayward Youth Hall of Fame Award Recipient for Innovation
Home Categories Rules Nominate Hall of Fame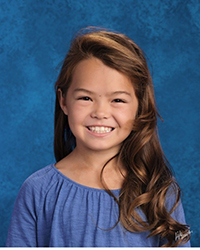 It started with a trip to the grocery store. She said, 'I want to sell hot chocolate to buy food and presents for homeless people.' Needless to say, Daddy bought ingredients for hot chocolate. That was November 2015. Ashley was 6 years old.
That first year, Ashley sold $264 worth of hot chocolate at a stand in front of our home, dancing to Christmas music with a sign that read "Hot Choklit $1." She assembled 18 care packages with toiletries and snacks held together with ribbons. We took her to a church event serving holiday dinner for the homeless and she passed out her packages with a cheerful 'Merry Christmas!' The following March, Ashley asked her friends to bring pet food, toys and cleaning supplies to her 7th birthday party instead of presents for her. We took her to the Hayward Animal Shelter to deliver her birthday donations, where she was rewarded with a letter from the Hayward Police Chief commending her giving heart.
Ashley continued to look for ways to help her community in 2016. She participated in beach clean ups and sorted baby clothes for underprivileged kids. In the fall, she wholeheartedly helped purchase school supplies and toys for the Family Giving Tree's Backpack and Holiday Wish Drives.
Once again she held her Hot Choklit for the Homeless stand in our front yard. This time we added an online fundraising site and raised a total of $515 for care packages. These were donated to the South Hayward Parish where showers and services are provided for our homeless neighbors.
But in the spring of 2017, after another birthday party's worth of donations this time to the Sulfur Creek Nature Center, Ashley's only volunteering frustration came to a head.
"IT"S NOT FAIR!" she exclaimed when she was told that children under 14 were not allowed to help at volunteer events that I participated in at work. "I'm a great helper! And I know my friends are, too!" I explained that volunteer opportunities for elementary school aged children were rare and not well publicized. I told her, "If you want these opportunities, you'll have to make them for yourself." She looked me straight in the eyes and said, "What do I have to do?"
So, Small Hands with Helping Hearts was born. Ashley is the founder and president in charge of recruiting like-minded kids who want to make a difference in their communities, and don't want to wait until they're 14 to do it. To date, Small Hands with Helping Hearts has 8 kids ranging in age from 7 to 11 years old that regularly help out at events. They have cleaned out storage facilities at Banyan House and helped clean up Crab Cove Beach in Alameda, CA.
Her major project at this time is maintaining the Betty DeForest Community Garden at South Hayward Parish. Helping the homeless is a cause dear to her heart and she wanted a way to help out year round. She can be found at the garden 3 times a week watering, weeding and harvesting vegetables from the 18 raised planter boxes that she and her friends built. Another online campaign is well underway and Ashley has great plans for this year's holiday season of giving.
Ashley knows that kids can make a difference and she wants to encourage everyone to stop underestimating the power that "small hands" can have in the world.