Hayward Youth Hall of Fame Award Recipient for Community Service
Home Categories Rules Nominate Hall of Fame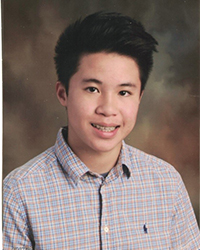 Andrew has fundraised every year for the last seven years for the Hayward Animal Shelter. It started when he was six years old. A visit to the Hayward Animal Shelter during the holidays made Andrew sad as he wondered how he could help the homeless animals. Being six, he was too young to volunteer; so,  Andrew thought he could help raise money for the shelter animals by doing the only thing he felt he could do well—playing his violin. Since then, it has been an annual tradition in our family where Andrew plays his violin to fundraise every holiday season.
On many holiday weekends, Andrew chose to play his violin to raise funds when he could be out doing holiday activities with his family. He has played at the Hayward Farmer's Market, all over San Francisco, from Union Square to Chrissy Fields, and in downtown Walnut Creek.  Andrew's music has progressed from simple tunes to classical minuets and longer complex pieces. Even though there were so many people who gave generously to support Andrew's cause, it was challenging at times when he got rude stares and  nasty comments as cash piled up in his violin case during live performances. Performing in public was not an easy feat for Andrew as he has a shy temperament. Despite the challenges, he believes in the cause and is happy to have made a difference in the lives of homeless pets at the Hayward Animal Shelter.
Over the years, Andrew has received thank you notes from previous Hayward Chief of Police, Diane Urban and the Friends of Hayward Animal Shelter, for his fundraising efforts. He was also featured in an article in Hayward Animal Shelter's Newsletter,  "All Fur Love" (Winter 2014 edition) and to date, Andrew has raised close to $1,600.