Hayward Youth Hall of Fame Award Recipient for Leadership
Home Categories Rules Nominate Hall of Fame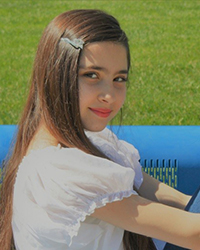 My daughter, Alessandra Kiana Eiras is a very empathetic, passionate young lady. She marches to the beat of her own drum. She stands out from the rest.  She loves to help sick or abandoned animals, has donated her time to give to homeless shelters, and is an advocate against bullying.
Alessandra is a great academic achiever; since the second grade until present, she has been an honor roll student. This year, she received from the City of Hayward, the American Citizenship Award. She also received the Latino/a's Award for great academic success and the Principals Award, alongside of all her other awards granted from Treeview Elementary for her great success at the school.
Alessandra has been in Color Guard for three years, and she preformed with her group for the Grand Opening of the HUB.  She is also a talented singer requested to sing for her schools teacher staff Christmas Luncheon and she was also requested to sing the "Star Spangled Banner" at her 6th grade promotion ceremony. She was so honored.  Her 6th grade teacher, Mr. Jason Cross said, "It doesn't matter what school Alessandra goes to as a 7th grader, she will succeed anywhere." Her YEP teacher, Ms. Cherise Morris said, "Alessandra's talent is an inspiration to all children in our program."  Alessandra has performed in all Treeview Elementary and YEP talent shows. Another YEP teacher, Maria Rangel said, "Alessandra is the whole package—smart, talented, and beautiful."
What I admire most about Alessandra is her staying humble and down-to-earth. She loves nature and loves animals. She has rescued abandoned kittens, snakes, pigeons, and lizards. Sometimes our home is more like a zoo. Her empathy and love for others is gold. 
Alessandra is courageous, not permitting herself to become a victim of being bullied. She took a stand for herself, with the help of her YEP teacher, Patricia Alcala. She confronted her bullies and left the meeting with the feeling of  respect and confidence never to let anyone bully her again. She learned her voice is the power to speak out against being bullied. She has shared her story with others and has helped others stand up against bullying. At the YEP talent show, she decided to sing "Beautiful," by Christina Aguilera, because of the words in the song: "We are beautiful, no matter what they say, words won't bring us down." She chose that song for the purpose to inspire her peers to not let negative words stop you from happiness and success.
Alessandra has suffered from asthma since birth; but Alessandra doesn't let her asthma take away her dreams. She still sings and participates in Color Guard and she takes care of herself the best she can. Alessandra is an inspiration to those who suffer from asthma, too. By managing her asthma, she doesn' let it affect her school grades, attendance, talent shows, or physical activities. She is proof that you can live life just like those who don't have asthma.
For these reasons stated above, I strongly believe Alessandra Eiras should receive the Youth Achievement Hall of Fame Award.  She has worked hard and endured challenges in staying positive and motivated to succeed. She understands that great success requires discipline, focus, and determination.