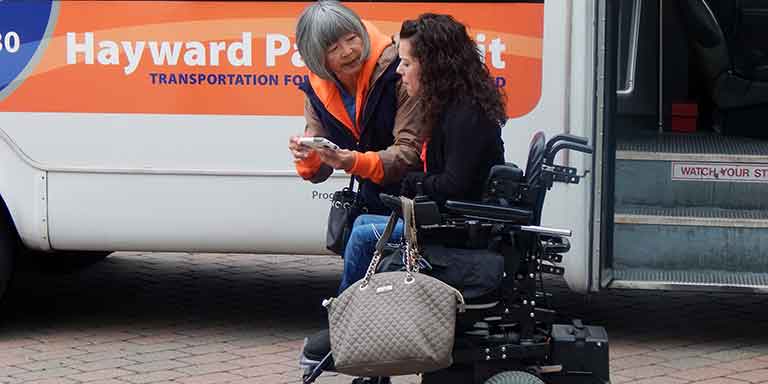 Hayward Operated Paratransit (The HOP)
Paratransit providers for Hayward residents:
The Hayward Operated Paratransit (HOP) Program complements and supplements the East Bay Paratransit service when it is unable to provide service.
To qualify for the HOP you must:
Be a resident of the City of Hayward, Castro Valley, San Lorenzo, Unincorporated San Leandro, Ashland or Cherryland
Be at least seventy (70) years old, or
Be at least eighteen (18) years old; and be unable to drive or use other public transportation (such as the bus or BART) independently due to a medical or disabling condition
Programs Include:
Same-Day Transportation
Pre-scheduled door-through-door Transportation
Mobility Management and Travel Training
Meal Delivery
Subsidized Fare
PLEASE NOTE: East Bay Paratransit (operated by AC Transit and BART) is the primary paratransit service for Alameda County residents. Call (510) 287-5000 or 1-800-555-8085 for more information.
Already Enrolled in HOP?
Annual Paratransit Program Plan Applications for Measures B and BB Funding:
​The Hayward Paratransit Program is funded by Alameda County Measure B and BB 1/2 Cent Sales Tax, which is administered by the Alameda County Transportation Commission (Alameda CTC).