Recycled Water
The City of Hayward is constructing a Recycled Water Facility (RWF) to distribute 290 acre-feet per year (approximately 260,000 gallons per day) of recycled water to 24 locations.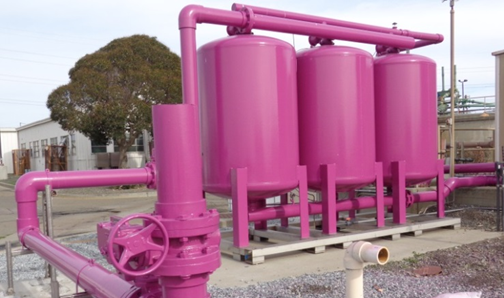 The purpose of the project is to preserve the limited supply of potable water, provide drought relief, increase the reliability and sustainability of the City's potable water system, and decrease the discharge of treated wastewater to the San Francisco Bay. The RWF will be installed adjacent to the City's Water Pollution Control Facility.  The distribution system will consist of about 1.5 miles of 8-inch mains and about 3 miles of lateral pipelines with connections to customers. 
In December 2014, the City completed an environmental assessment and adopted an Initial Study/Mitigated Negative Declaration. On December 15, 2015, the City adopted the Recycled Water Use Ordinance requiring mandatory use of recycled water for irrigation and certain industrial uses within the recycled water service area. Staff has applied for a low-interest State Revolving Fund loan and is currently proceeding with the design of the RWF and distribution system. Some construction work was recently completed near the Water Pollution Control Facility.
Project Contact: Suzan England, Senior Utilities Engineer, 510-293-5098, suzan.england@hayward-ca.gov
---
Frequently Asked Questions
What is water recycling?
Water recycling is the use of treated municipal wastewater for beneficial and controlled uses such as landscape irrigation, industrial processes, and replenishing groundwater basins.  The municipal wastewater is treated to tertiary levels through advanced treatments processes of filtration and disinfection to produce high-quality recycled water that is safe for reuse.
Is recycled water safe?
Tertiary treated recycled water is safe for a wide range of beneficial uses. Tertiary level of treatment consists of four steps: primary treatment, biological treatment (also called secondary treatment), filtration and disinfection. As a result, recycled water plants produce highly treated, filtered and disinfected water that meet and often exceed all local, state and national standards required by the regulatory agencies. 
Who regulates recycled water in California?
In California, the State Water Resources Control Board's Division of Drinking Water regulates the production and use of recycled water.  The Division has adopted strict public health and safety regulations to help protect the public from any potential risks associated with recycled water. These regulations can be found in Title 17 and Title 22 of the California Code of Regulations. The State Water Resources Control Board and the corresponding Regional Water Quality Control Board also issue permits to local agencies to oversee the production, conveyance and use of recycled water. In addition, local agencies supplying recycled water have their own ordinance and guidelines that incorporate the requirements of Title 17 and Title 22 regulations. The City of Hayward's Recycled Water Use Ordinance can be found in Chapter 11, Article 6 of the Hayward Municipal Code.
What are the approved uses of recycled water?
Tertiary treated recycled water is safe for many uses due to its high level of treatment.  Approved uses include irrigation, supply for impoundments, and supply for cooling or air conditioning. Download the fact sheet for the full list of approved uses. 
Download the Fact Sheet.
---
The U&ES Department completes capital improvement projects to ensure Hayward's water and wastewater services meet the highest standards of quality, reliability, safety, and efficiency. In addition, facilities and programs are continuously upgraded with new technologies to meet the City's environmental goals.