Submitted by

chathaway

on Fri, 03/12/2021 - 12:46
Women's History Month: Heidi's Favorite Mysteries by Women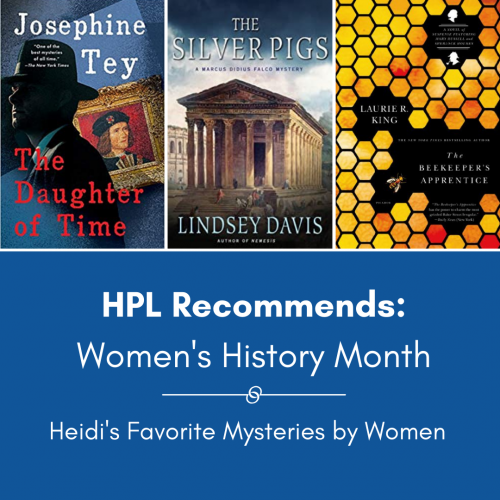 In honor of Women's History Month, we're sharing book recommendations for all ages! Be sure to check out these books, and to read women authors all year long, not just in March. 
List curated by Heidi
Inspector Alan Grant of Scotland Yard, recuperating from a broken leg, becomes fascinated with a contemporary portrait of Richard III that bears no resemblance to the Wicked Uncle of history. Could such a sensitive, noble face actually belong to one of the world's most heinous villains--a venomous hunchback who may have killed his brother's children to make his crown secure? Or could Richard have been the victim, turned into a monster by the usurpers of England's throne? Grant determines to find out once and for all, with the help of the British Museum and an American scholar, what kind of man Richard Plantagenet really was and who killed the Little Princes in the Tower. 
Hercule Poirot retires to a country village to raise vegetable marrows, but the world of crime isn't finished with him yet. When Chief Inspector Japp is sent to investigate the murder of a wealthy industrialist, he needs all of Poirot's 'little grey cells' to sort out which of the man's household actually committed the murder, since they all seem to have something to hide. The golden age mystery is known for its highly controversial and ground- breaking twist at the end.
Amelia Peabody, that indomitable product of the Victorian age, embarks on her first Egyptian adventure armed with unshakable self-confidence, a journal to record her thoughts, and, of course, a sturdy umbrella. On her way, Amelia rescues young Evelyn Barton-Forbes, who has been "ruined" and abandoned on the streets of Rome by her rascally lover. With a typical disregard for convention, Amelia promptly hires her fellow countrywoman as a companion and takes her to Cairo. Eluding Evelyn's former lover, who wants her back, and Evelyn's cousin Lord Ellesmere, who wishes to marry her, the two women sail up the Nile to an archaeological site that is home to a rather lively mummy. Soon strange visitations, suspicious accidents, and a botched kidnapping convince Amelia that there is a plot afoot to harm Evelyn.
While trying to manage being the maid of honor in three weddings, Meg Langslow finds herself in the midst of a mystery when her former sister-in-law's soon-to-be stepfather is found dead.  One of the funniest mysteries ever written with a truly bizarre cast of characters and a delightful romance between Meg and a newcomer to the town.
Isabel "Izzy" Spellman, a San Francisco private eye with a checkered past, has been working for her family's firm, Spellman Investigations, since age 12. Now 28, Izzy thinks she wants out of the family business, but elects to take on a cold case while dealing with her 14-year-old sister Rae, a nightmarish Nancy Drew, and parents who have no qualms about bugging their children's bedrooms. When Rae suddenly disappears, Izzy and her family must learn some serious lessons in order to find her.
Chance meeting with a Sussex beekeeper turns into a pivotal, personal transformation when fifteen-year-old Mary Russell discovers that the beekeeper is the reclusive, retired detective Sherlock Holmes, who soon takes on the role of mentor and teacher. First in a superb and long running series.
One fine day, A.D. 70, Sosia Camillina quite literally runs into Marcus Didius Falco on the steps of the Forum. It seems Sosia is on the run from a couple of street toughs, and after a quick and dirty rescue, P.I. Falco wants to know why. Falco finds out that Sosia, the niece of a highly placed senator, holds the secret to a stockpile of silver pigs, ingots intended for no good use. Hoping for future favors from Sosia's powerful uncle, Falco embarks on an intricate case of smuggling, murder, and treason that reaches into the palace itself. And if he does not tread lightly, the treacherous puzzle of the silver pigs could buy him a one-way ticket to his own funeral pyre.
Visit the library's 
online catalog
 to request a book for HPL to Go (curbside pick-up), or check out our 
online resources
 to learn more about ebooks or audiobooks!