Submitted by

mnogales

on Sun, 05/26/2019 - 14:59
Staff Picks: They Both Die at the End by Adam Silvera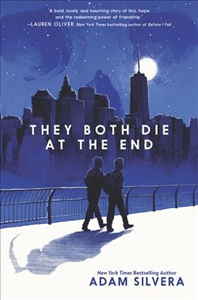 Picked by Ari N.
When "Death Cast" appears on your caller ID, you know that today is the day you will die.
On September 5th, Mateo and Rufus both get the call from Death Cast, the company that predicts deaths with 100% accuracy.  Total strangers, Mateo and Rufus meet each other through an app called Last Friend, where people who've received Death Cast calls can meet friends to spend their last day with. Mateo and Rufus couldn't be more different: Mateo is anxious, cautious, and shy, while Rufus is loud, confident, and angry. But on their last day, Rufus and Mateo find solace in their shared trauma and loneliness. Together, they go on a final adventure, and try to squeeze in a lifetime of experiences into one day.
"They Both Die At the End" is a stunning, heartbreaking story of friendship, love, and loss. Rufus and Mateo are unique, compelling characters that readers will fall in love with. As Rufus and Mateo's last day unfolds, their stories are revealed and we learn how they got to this day. The novel is also interspersed with chapters focusing on other people, adding another dimension to the story with snippets of other characters' final days. Be warned that this is a tear-jerker, but it is certaintly not melodramatic. Silvera evokes true emotions and makes you fall in love with Rufus and Mateo.
Those who've enjoyed Silvera's previous novels will love this new addition, but it's also a great starting point for readers new to his work (and will certainly hook them on his writing). Silvera is a master at crafting loveable, authentically diverse characters of color and LGBTQIA+ characters. This is a young adult (YA) novel that is perfect for fans of Nicola Yoon's "The Sun is Also a Star"  or Jessica Brody's "The Chaos of Standing Still" but can easily be enjoyed by adult readers or those unfamiliar with YA.  "They Both Die At the End" will warm your heart and break it at the same time.
Click here to have us hold a copy for you.