Submitted by

Anonymous

on Fri, 04/26/2019 - 13:43
Staff Picks: Meet Cute: Stories by Jennifer L. Armentrout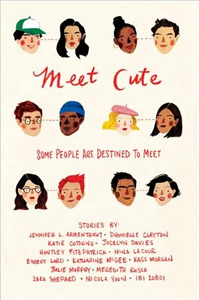 If you're a fan of rom-coms or romance novels, you may have heard the phrase "meet cute"—a scene in which two characters meet, usually in a silly, embarrassing, or memorable way.
This anthology is a collection of "meet cute" stories of all sorts from some of the greatest YA authors. The collection boasts works from several popular authors that many readers will recognize as well as works from authors newer to the YA scene. It's a diverse sampler that includes different genres and perspectives.
As with any anthology, there are some selections that stand out more than others. Nina LaCour's story of a teen intern at a print shop finding a connection with another girl through an angry customer-service tweet is particularly charming. Another memorable piece is Meredith Russo's contribution: a story of a transgender teen girl, caught in a media frenzy over wich school bathroom she can use, finds a romantic spark in an unlikely classmate. Nicola Yoon's "The Department of Dead Love" is beautifully reminiscent of the film Eternal Sunshine of the Spotless Mind, but in Yoon's distinct style. Julie Murphy, a beloved YA contemporary author, has a hilarious story included in this anthology about a dating game show gone wrong. Many other incredible authors are represented: Dhonielle Clayton, Ibi Zoboi, Sara Shepard (author of the best-selling "Pretty Little Liars" series), and more.
Meet Cute offers something for readers of all genres and interests. It includes a number of LGBTQIA+ love stories, and ones featuring characters of color. There is always room for more diversity, of course—I would have loved to have seen more stories featuring characters with disabilities, those experiencing homelessness, and other topics not normally represented in the romance genre. There are also tales of chance encounters, space travel, mystical islands, and libraries. Meet Cute is perfect for when you're in the mood for a lighthearted tale but perhaps not committed to an entire romance novel. Readers can easily skip arond and read the selections from their favorite authors, or let themselves be introduced to new ones.
Reviewed by Ari N.