Submitted by

Anonymous

on Thu, 02/28/2019 - 11:04
Staff Picks: The Chronicles of St. Mary's by Jodi Taylor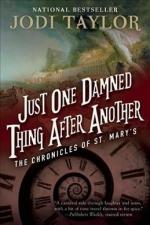 One of my favorite reads lately is a madcap British time-traveling series called The Chronicles of St. Mary's by Jodi Taylor. Think Monty Python crossed with 007 spy capers and action thrillers with a hefty dose of actual history lessons!
Behind the seemingly innocuous facade of St. Mary's Institute of Historical Research, a different kind of academic work is taking place. Just don't call it "time travel"—these historians "investigate major historical events in contemporary time." And they aren't your harmless eccentrics, either; a more accurate description, as they ricochet around history, might be "unintentional disaster magnets." They really like to blow stuff up, or burn it or melt it, all in the name of research, of course!
The series tells the chaotic adventures of Madeleine Maxwell and her compatriots—Director Bairstow, Leon "Chief" Farrell, Mr. Markham, and many more—as they travel through time, saving St. Mary's Institute (too often by the very seat of their pants) and thwarting time-traveling terrorists. all the while leaving plenty of time for tea. 
There are nine books in this series so far, they are all fast reads and, while funny, they do pack quite an emotional punch. Be warned, main characters do die and some of the historical events they observe are quite harrowing.
Book 1 in this series is Just One Damned Thing After Another; click here to have us hold a copy for you.
Read by Heidi O.