Submitted by

mnogales

on Sat, 06/01/2019 - 02:00
Staff Picks: Blankets by Craig Thompson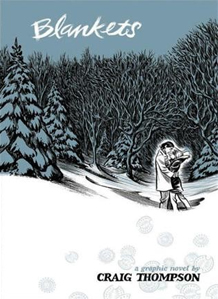 Picked by Michelle N.
This graphic novel, based on the life of the author/illustrator, is very personal and vividly-told story about first love. I could really feel it… also, the zap that such an intensely religious upbringing put on those kids' heads. It's so beautifully drawn: spare and dreamy, like a gently-rolling snowbound landscape.
It feels strange to me that I don't have more to say about this book than I do. It's very absorbing. But it's also a quiet book. I felt quiet when reading it, and I feel quiet now, thinking about it. Snow. Blankets. Thoughts.
Click here to have us hold a copy for you.