American Rescue Plan Act & Homelessness Response Strategy
The City of Hayward will receive approximately $38 million under the American Rescue Plan Act (ARPA), the $1.9 trillion COVID-19 economic stimulus bill passed by Congress and signed into law on March 11, 2021.
Through a deployment plan adopted on July 13, the City Council has directed ARPA expenditures across four broad categories—Public Health ($6.94 million), Economic Relief ($15.7 million), City Fiscal Recovery ($14.5 million), and Water, Sewer and Broadband Infrastructure ($1.24 million).
The priority for ARPA Economic Relief expenditures is the City's new Let's House Hayward homelessness reduction strategic plan and related programs and activities.
Developed over 18 months, the Let's House Hayward plan aims to make homelessness in Hayward rare, brief and non-recurring—and seeks to accomplish this through a range of existing, expanded and new shelter, transitional housing, and loss-of-housing prevention programs and supportive services.
Total: $38.38 million
Public Health—$6.94 million
Economic Relief—$15.7 million
City Fiscal Recovery—$14.5 million
Infrastructure: Water, Sewer, Broadband—$1.24 million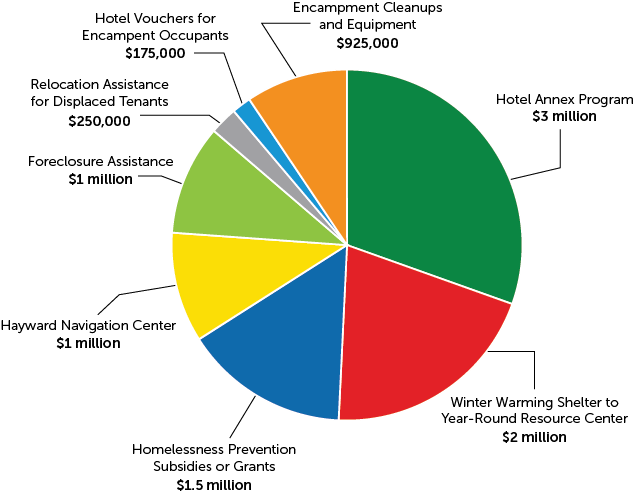 Total: $9.85 million
Hotel Annex Program—$3 million
Winter Warming Shelter to Year-Round Resource Center—$2 million
Homelessness Prevention Subsides or Grants—$1.5 million
Hayward Navigation Center—$1 million
Foreclosure Assistance—$1 million
Relocation Assistance for Displaced Tenants—$250,000
Hotel Vouchers for Encampment Occupants—$175,000
Encampment Cleanups and Equipment—$925,000