Updates and Response Information:
UPDATE AS OF: JULY 19, 2020:
This Order of the County of Alameda's Public Health Officer continues to maintain restrictions on movement and public and private gatherings set forth in the Health Officer's May 18, 2020 Shelter in Place Order. However, in light of the continued progress toward controlling the spread of COVID-19 in the County of Alameda and neighboring jurisdictions, this Order allows certain additional business, recreational, social, and cultural activities to resume. HEALTH ORDER PAGE
ALAMEDA COUNTY HEALTH OFFICER ORDER FACE COVERING ORDER ALAMEDA COUNTY UPDATES
COVID-19 is the name of the novel coronavirus that is responsible for this outbreak. Coronaviruses are a family of viruses that typically cause mild respiratory infections like the common cold but also more severe (and potentially deadly) infections. They are zoonotic diseases, meaning they are transmitted between animals and people.
In the interests of public health and controlling the spread of COVID-19, the City of Hayward is taking steps that include the modification or limiting of non-essential City services or access to certain facilities.
Starting Aug. 3, as the COVID-19 Testing Center moves to Skywest Golf Course, people will now have to make an appointment. Please visit the Testing Center webpage on the City of Hayward website. Exceptions will be made for those that do not have a vehicle.
During a disaster or other emergency, we will activate our Emergency Volunteer Center (EVC) to provide a way for community members to help out and to manage volunteer efforts.
We have received an outpouring of support from Hayward community members looking to help during the COVID-19 pandemic. In response, we have launched the Hayward Community Relief Fund.
We have a partial list of resources available to the public. We will update this page daily as additional resources become available. If you need assistance accessing these resources, please call the City's COVID-19 information hotline: (510) 583-4949, or 211 for assistance in multiple languages.
Video Information from the Centers for Disease Control and Prevention
Alameda County COVID-19 Dashboard

Updated daily, the dashboard includes cases over time, by gender, age group, and city. A collaboration with the City of Berkeley.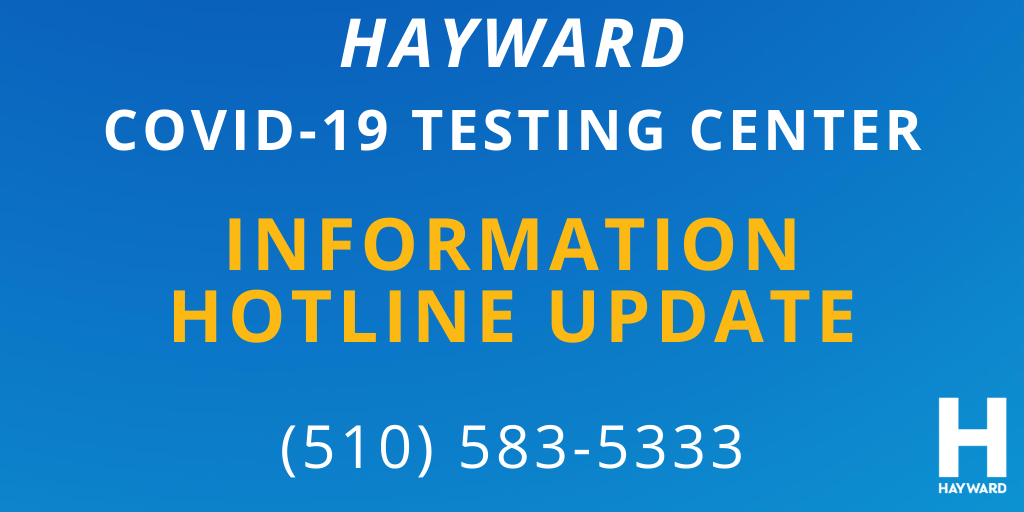 Other Local Coronavirus Testing Centers
Partner Agency COVID-19 Information