Accessory Dwelling Unit Information and Permit Process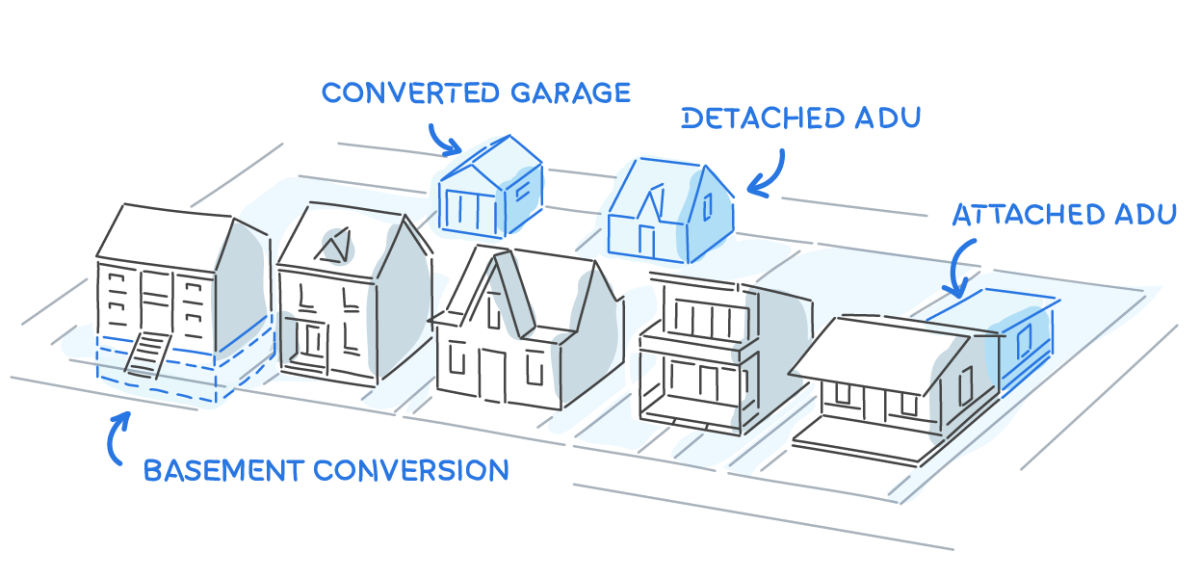 What is an Accessory Dwelling Unit (ADU) and Junior Accessory Dwelling Unit (JADU)?
Accessory Dwelling Units (ADUs) are also known as second dwelling units, in-law units, granny flats, and/or mother-in-law quarters. ADUs are defined as complete independent dwelling units that have permenant provisions for living, sleeping, eating, cooking, and sanitation located on the same property as a single-family home. ADUs may either be attached or detached from the primary home and/or include a conversion of existing legal space on the property.
Junior Accessory Dwelling Units (JADUs) are semi-independant dwelling units no larger than 500 square-feet within a portion of an existing single-family home such as a garage, great room, home office, etc. JADUs include a bedroom, a food preparation area with a wet bar and storage cabinets, and may include a separate bathroom; however, no permanent kitchens/stovetops/ovens are allowed. JADUs also require an internal connection with the remainder of the home as well as a separate exterior entrance. Properties with JADUs will be required to record a Deed Restriction for owner occupancy with the County of Alameda Recorder's Office prior to building permit issuance which requires the legal property owner to reside at the residence. 
Why are ADUs/JADUs important to Hayward?
ADUs/JADUs provide housing opportunities in a flexible manner to address the unmet demand for affordable housing for the Hayward community, including but not limited to, students, young professionals, small families, disabled individuals, senior citizens, etc. while also assisting homeowners to offset the cost of homeownership and maintenance by renting out ADUs as an additional source of income.
I am interested in building an ADU/JADU at my property. Where should I start?
Homeowners, property owners, and design professionals interested in constructed an ADU/JADU on a property should familiarize themselves with the ADU regulations of State law and the Frequenty Asked Questions (FAQ) handout below. In addition, it is recommended to contact the Planner-of-the-Day at (510) 583-4216 or planning.division@hayward-ca.gov to see if their property is eligible to have an ADU/JADU based on zoning requirements. ADUs are also allowed on multi-family properties as well pursuant to State law. Individuals can also use the City's onine GIS WebMap to determine what zoning district they are located in.  
If determined an ADU or JADU is possible at your property, applicant(s) will need to submit construction level plans and the appropriate checklist below for the technical plan check review by the Building Division. The Planning Division will review the plans during the technical plan review to ensure compliance with applicable development standards.
How much are building permit fees to construct an ADU?
Building permit fees vary depending on the project valuation (fair market value of materials and labor) and square-footage of the proposed ADU. People interested in constructing an ADU should review the City's Permit Fee and Tax Reference sheet (see below) which will include potential costs associated with building an ADU such as school district fees, utility connections, construction taxes, affordable housing in-lieu fees, and park dedication in-lieu fees. Impact fees such as park dedication in-lieu fees, affordable housing in-lieu fees, and school district fees will not apply for ADUs and JADUs that are less than 750 square-feet. 
PLEASE NOTE: Applications for ADU and JADU permits must be submitted in-person at the Permit Center, City Hall, 777 "B" Street, Hayward, CA 94541
Permit Center Hours: Monday-Thursday, 8:00 AM - 1:00 PM